How to make a small Bubbleponics / DWC system out of a coffee can.
Materials Needed:
*Plastic Coffee Can w/Lid.
*Aquarium air pumpwith air hose and Air stone( the more bubbles the better)
*Empty Yogurt cup
*Lava Rock Or Aquarium gravel is it what ya got
*Something to Drill some holes
*A sharp Utility knife
Okay now that you have your materials gathered up lets start the process.
Step 1. Take your Coffee can and Lid clean them very well
Step 2. Take your coffee can lid and cut a hole just big enough for the yogurt cup to fit in the center flushly with the lid.
Step 3. Now drill asmall hole off to the side of the lid just big enough for the air tubing to fit through.
Step 4. Okay your done with the lid now for the yogurt cup this will act as your net pot so you will need to drill several medium size hole all over the sides and bottom ofthe cup for the roots to go through.
Step 5. Okay now time to assemble the until. Take your yogurt cup and insert it in the lid, Now feed the tubing through the hole you drilled for it with about 4 inches of tubing left inside now attach your airstone to the tubing. Fill your Coffee can bucket with Desired nutrients or water till it barely touches to bottom of the netpot, Put your lid on and plug it in…
Final step. Now takeyour plant and gently place it in the net pot and fill with lava rock to stabilize the plant in position. Set it under lights and watch it closely. You may have to change the water as it get bad but you should be able to grow a nice plant from this and be able to learn a little hydro.
Have Fun with it…
™Strider555©
(this was a prototype before the yogurt cup net but it gives ya the idea)
and here was the results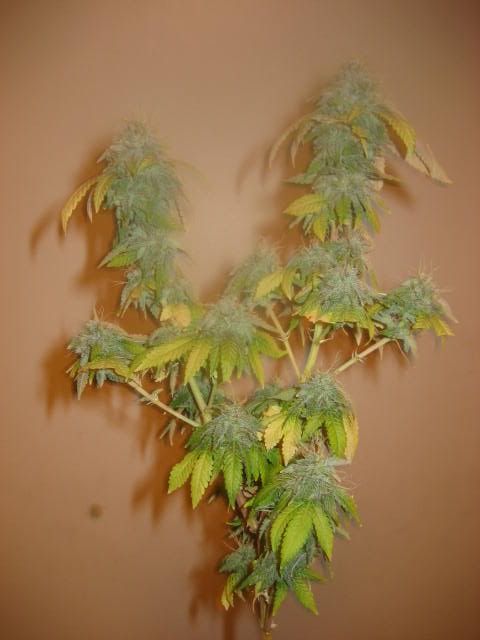 Now go experiment and have fun!
™ Strider555 ©